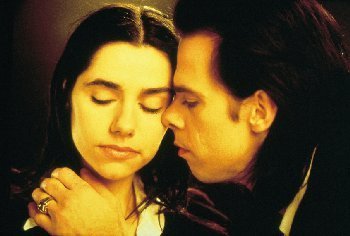 Acima, naquele momento Vale a Pena Ouvir de Novo na [rádio] Cidade, PJ Harvey e Nick Cave. Ela é a da esquerda
1. Johnny Guitar Watson - Superman Love
2. Marvin Gaye - Let's Get It On
"Come on baby, hey hey, let your love come out If you believe in love let's get it on, ooh"
3. Al Green - Let's Stay Together
4. Isaac Hayes - Ike's Rap II
5. Squirrel Nut Zippers - Meant to Be
"Those who know will whisper when they see us walking, 'there's a love that's always meant to be'"
6. Frank Sinatra - Sunny
7. The Flamingos - I Only Have Eyes for You
8. Ella Fitzgerald - Tea for Two
"Just tea for two and two for tea"
9. Julie Delpy - Waltz for a Night
10. Goldfrapp - Black Cherry
"How can I see when you're everything?"
11. Elvis Costello - Alison
"I know this world is killing you. Oh, Alison, my aim is true"
12. Sleater-Kinney - The Size of Our Love
"Sit like a watchdog and patiently wait"
13. PJ Harvey - This Is Love
"I can't believe that life's so complex when I just want to sit here and watch you undress"
14. George Harrison - I'd Have You Anytime
"Let me grow upon you" (Opa, George!)
15. Café Tacuba - Hola Adiós
"Te veo como vecina, vecina del alma mía, y en este preciso instante que el piso se nos termina, perdóname, pideme perdón"